B) Realisierung eines MFM DECODER mit CLOCK and DATA RECOVERY ( CDR ), Messen der MFM Signale.
To reconstruct the clock signal from the MFM data, a PLL is needed which was typically included on the RLV-11/12 disk controllers. There is no PLL in the FPGA world based on the classical form with VCO, though. Instead of the PLL , the DPLL algorithm is used to reconstruct the clock signal from the MFM data.
This looks as follows at the RL02 disk drive:
The MFM data are changed with phase schifting. Different timing periods will arise into dependency MFM data changed. At the example of the RL02 disk drive running with a 4.1Mhz clock will result in 3 different timing periods which than can be dissolved as follows are the results:

1) Short Period , 0.250 uS ====> Value remains the same 1111.... or 0000....
2) Long Period , 0.375 uS ====> Value changes 000111 or 100100
3) Very long Period, 0.500uS ====> Value changes continuously 0101010101
Example:
To generate an output signal whose phase is related to the phase of the MFM signal, a considerably higher frequency is necessary to be able to measure the time periods between the MFM signal edges. In the example here with a standard 50Mhz FPGA clock. The 3 different MFM signal periods produce a counter resolution for 12 = short period, 18 = long period and 24 very long period.
The solution for measuring the MFM periods looks that way: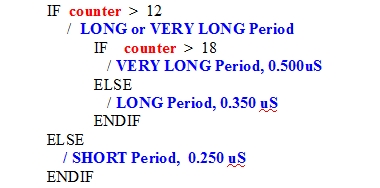 Now, the data still must be produced from the sequence of the different periods. It is important to know that the measuring of the data is always going on around one period afterwards. The algorithm for the MFM decoder looks that way: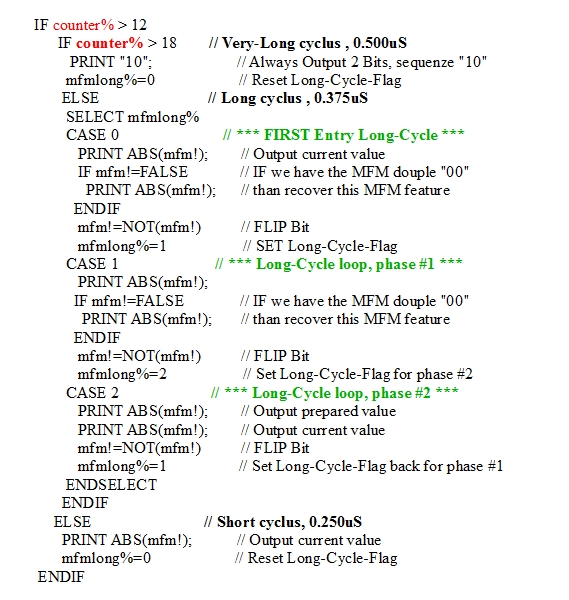 The run down will produce following result:

At the first moment, the algorithm seems to be a little unclear. It lies well, that no clock is provided for the first "0" if a double "00" sequenze occurs within the MFM method, so it virtually falls away which saves disk space. Furthermore is valid, that a long MFM period always result in a Bit change. There also is a particularly interesting constellation at a bit sequence "100100100100..." which has a Long cycle loop the consequence.
Implementation: I have developed the complete MFM-Decoder Program in GFA-Basic/Pascal because nothing quicker gives development and testing of an algorithm for me.
Status: This effective and elegant solution is not completed yet. I want to implement the algorithm with Verilog and to do this, at present, I still have too little experience. If it is done, I will publish the code. At present, I am able to collect the MFM cycles via a counter running with the 50Mhz FPGA clock, send the data to the ARM or NIOSII CPU and decode it. Also here, I still run in the problem already described in the servo/header area of the MFM data (see note in overview).